A lovely and romantic hideaway in the absolute center of the city.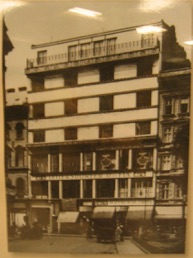 Quiet and bright, totally remodeled in 2006, Apartment Sarah is a rooftop apartment overlooking a Bauhaus courtyard.  A few steps off the lift, pass through your small gated patio and enter 50 square meters of nestled comfort: full American kitchen, cable TV, wi-fi high speed internet, en suite separate wc and bath with custom-built shower.

Apartments Belle and Sarah are twin apartments designed by a Budapest architect to be shared by his two adult daughters.  They have double dividing doors for privacy between them, and each is fully self-sufficient with its own kitchen, bath, toilet, living room and bedroom/gallery.  Each has its own entry from the courtyard, actually from separate elevators (they are both on the top, 5th, floor).  Both are fully air conditioned, each has a washer and a dryer as well as high speed WiFi Internet access, a small computer, a flatpanel TV and cable tv, dvd player and library, iPod docking station and speakers, and VOIP telephone service with free worldwide calling (to most locations, unlimited). Each has a personality of its own.  Over the years I have gone back and forth in terms of personal preference.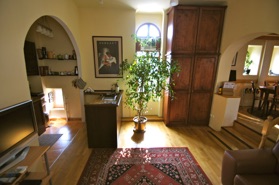 Apartment Sarah has the more private bedroom, with a smaller bed (it's a bit larger than an American full/double bed, a bit smaller than a queen). The bedroom is tiny but cozy, and there's a dining area below. The apartment is extremely bright with a very large window onto the courtyard, and has a very large, very comfortable convertible sofa (with solid, not folding, mattresses). The apartment has a small balcony on the courtyard with a bistro table and a pair of chairs where one can sit and sip coffee (both apartments come with Nespresso espresso systems).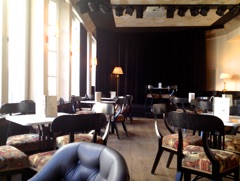 YOUR CÁFE: Rózsavölgyi Szalon

other excellent nearby choices:

✤Café Gerloczy, 2 blocks away


✤Café Central, 4 blocks away


✤Café Alibi, 5 blocks away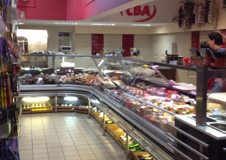 YOUR SUPERMARKETS:

✤CBA, 2 blocks away


✤Match, 3 blocks away, open 24 hours, 7 days;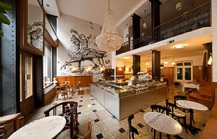 YOUR CUKRASZDA

(pastry shop): Auguszt

3 blocks away

other good nearby choices:

✤Jeg Bufé, 2 blocks away


✤Gerbeaud, 2 blocks away

FINE DINING: A 20 minute walk will get you to Café Bouchon, Costes, Borsso, Muzeum Kavehaz, the Gresham Kavehaz, Salaam Bombay, Café Kör, Stand Bistro ... an almost infinite range

CHEAP EATS: Castro Bistro, 3 blocks; take out fried chicken on Semmelweiss utca at Vitkovics Mihaly utca, 3 blocks

OTHER RECOMMENDED RESTAURANTS NEARBY: Central Kavehaz; Gerloczy Café;  Rezkakas

CLOSEST SIGHTS: Great Synagogue, 2 blocks; National Museum, 4 blocks; Central Market 5 blocks;

NEAREST PHARMACY: downstairs

NEAREST ATM: across the street

NEAREST CURRENCY EXCHANGE: 1 block