Nestled in the heart of the city, a rooftop apartment overlooking a Bauhaus courtyard,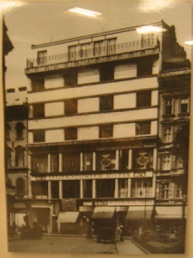 Apartment Belle has 50 square meters of cozy luxury:
full American kitchen, large sleeping gallery, high speed internet (wi-fi) and cable TV, ensuite bath/toilet.  Quiet and bright, step from the lift through the private gate. The apartment sleeps a family of 4 with a queen-sized bed and large convertible sofa.

Apartments Belle and Sarah are twin apartments designed by a Budapest architect to be shared by his two adult daughters.  They have double dividing doors for privacy between them, and each is fully self-sufficient with its own kitchen, bath, toilet, living room and bedroom/gallery.  Each has its own entry from the courtyard, actually from separate elevators (they are both on the top, 5th, floor). 

Both ar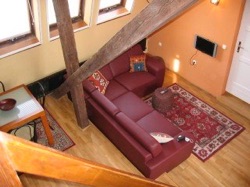 e fully air conditioned, each has a washer and a dryer as well as high speed WiFi Internet access, a small computer, a flatpanel TV and cable tv, dvd player and library, iPod docking station and speakers, and VOIP telephone service with free worldwide calling (to most locations, unlimited). Each has a personality of its own.  Over the years I have gone back and forth in terms of personal preference.
Apartment Belle has a very large sleeping gallery with a queen sized bed and a small desk.  It has large picture windows and skylights and is very bright but also very snug and cozy.  There is a very comfortable convertible sofa in the living room (the mattress does not fold but pops up so it is solid and firm).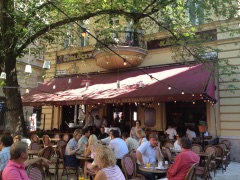 YOUR CÁFE: Café Gerloczy, 2 blocks away

other excellent nearby choices:

✤Café Central, 4 blocks away


✤Café Alibi, 5 blocks away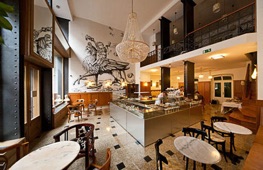 YOUR CUKRASZDA

(pastry shop): Auguszt

3 blocks away

other good nearby choices:

✤Jeg Bufé, 2 blocks away


✤Gerbeaud, 2 blocks away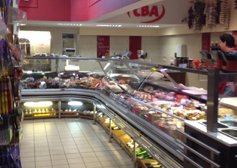 YOUR SUPERMARKETS

✤CBA, 2 blocks away


✤Match, 3 blocks away, 24/7;

FINE DINING: Five minutes walk or less to Onyx, the better of Budapest's two Michelin-starred restaurants and more or less the top of the food chain.  A 20 minute walk will get you to Café Bouchon, Costes (the other Budapest star in Michelin's galaxy), Borsso, Muzeum Kavehaz, the Gresham Kavehaz, Salaam Bombay, Café Kör, Stand Bistro ... an almost infinite range

CHEAP EATS: Castro Bistro, 3 blocks; take out fried chicken on Semmelweiss utca at Vitkovics Mihaly utca, 3 blocks

OTHER RECOMMENDED RESTAURANTS NEARBY: Central Kavehaz; Gerloczy Café;  Rezkakas

CLOSEST SIGHTS: Great Synagogue, 2 blocks; National Museum, 4 blocks; Central Market 5 blocks;

NEAREST PHARMACY: downstairs

NEAREST ATM: across the street

NEAREST CURRENCY EXCHANGE: 1 block