Only 21 apartments have balconies overlooking Kár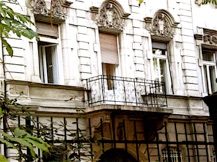 olyi Kert
–
Budapest's secret, gated, vest-pocket park.  And Apartment Max is one of them. As a result, guests at Apartment Max wake up to the sounds of birds singing and spend their evenings sipping wine on the balcony as the sun sets over the Buda hills.

The apartment itself is no less extraordinary than its location and its view.  As you enter the apartment you quite literally feel as though you are stepping back in to the grand days of the Austro-Hungarian Empire, outfitted with 18th and 19th Century antiques and equipped with 21st Century mod-cons.   We spent two years searching for an apartment overlooking that particular one-block-square park, because we had stumbled across it and fallen in love with it.  And then we spent another year renovating it and shopping for antiques and furnishings for it. 

The renovation was completed in October, 2007 and since then we've added in 21st Century technology: air conditioning, central heating, washer/dryer, dishwasher, convection oven, microwave, a Nespresso coffee bar with a wide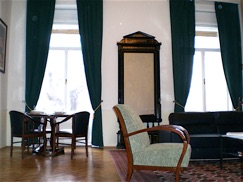 selection of blends...In  the living room a large flat panel satellite tv with DVD player, iPod dock and charger, AppleTV, and large dvd library.,  In the home/office area a small Windows/Mac computer, printer/fax/scanner, as well as  VOIP telephone with free unlimited international calling, cellular phone for local calls while out and about.

The comfort of the present, the gracious lifestyle of the past ...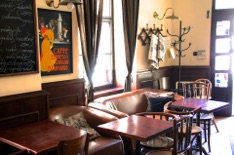 YOUR CÁFE: Café Alibi, around the corner

other excellent nearby choices:

✤Café Central, 2 blocks away


✤Csendes, around the corner


✤Gerloczy Café, 5 blocks away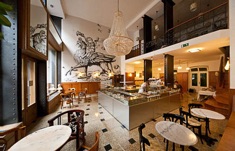 YOUR CUKRASZDA (pastry shop): Auguszt

✤other good nearby choices:


✤Jeg Bufé, 3 blocks away


✤Muzeum Cukraszda, 1 block away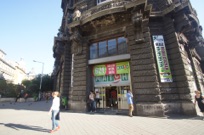 YOUR SUPERMARKET: Match, 3 blocks away

open 24 hours, 7 days

convenience store: at the corner, 24/7

FINE DINING: Borsso, 2 blocks; Muzeum Kavehaz, excellent traditional menu, 1 block.

CHEAP EATS: Castro Bistro, 5 blocks; Ruben (lunch) 1 block

OTHER RECOMMENDED RESTAURANTS NEARBY:  Central Kavehaz; Ybl Courtyard; Gerloczy Café; Alföldi Vendeglo; Rezkakas

CLOSEST SIGHTS: National Museum, 1 block; Central Market 4 blocks; Great Synagogue, 4 blocks

NEAREST PHARMACY: around the corner

NEAREST ATM: at the corner

NEAREST CURRENCY EXCHANGE: around the corner